Complete Index, 1973 – 2019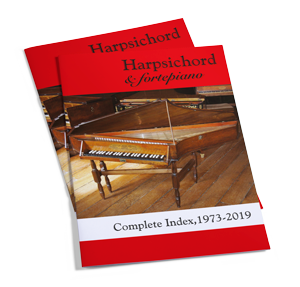 If you would like to order any of the individual articles please email us at subscriptions@hfmagazine.info stating the issue number and name of the article.
Items of interest and supplementary information
John Collins
Appendix for vol. 15, no.1 Listing works by Bernardo Pasquni. 4 PDFs:
Paul Irvin
Appendix for vol. 14, no. 2 – Historical Evidence for Historical Damper Qualities It now includes footnotes to the main article.
Maxim Serebrennikov
Editor: Additional scores for Goldberg/Ziegler Polonaises and lists of edits
Maxim Serebrennikov, editor; excerpts from the Book of Avdot'ja Ivanova: scores
Photos for Vol. 18/2 (Spring 2014)
Richard Troeger and Elaine Fuller, Photos article on Landowska
Photo 1: photo of Wanda Landowksa, Versailles, Hall of Mirrors, 1921. Author's personal collection.

Photo 2: Landowska in her Paris apartment, 1922. Author's personal collection.
Douglas Hollick at home with his Donzelague 1711 copy and his 1809 Broadwood. Photo by Graham Sadler
News photos at the Horniman Museum "At Home with Music" Launch:
Photo 1: the display of the hurdy gurdy.
Photo 2: Jane Chapman at the 1772 Kirckman
Photo 3: Penelope Cave and Pamela Nash
Richard Lester: Appendix for Vol. 19/2 (Spring 2015)
Diruta, Toccata per organo
Diruta, Toccatta di Salto Cativo del Sesto Tono
Merulo facsimile, Toccata Settimo Ottavo Tono
Back Issues of Harpischord & Fortepiano
If you wish to acquire back stock, depending on whether we have it in stock or how recent it is, there are different prices (as shown above).
Please note: If you wish to order a substantial number of back issues or either type, we may be able to save you shipping costs. We also track large orders. Therefore please contact us first if you are ordering 6 or more issues. If you wish for a complete run or a large number, we can give a discount, on a case by case basis.
Items within the last two years
For items in the last 2 years (last 4 issues), you can go to the 'Subscribe' page and order single issues.
Pre-printed back issues
Items from Vol 14. no. 2 up to 2 years ago are priced at £9.00 for less recent issues. Prices for shipping are built in. Do email us to tell us which back issues you wish. to have. then clikc on 'Add to Cart' below and when you are taken to a paypal page, update the quantity before paying.
Buy Off-prints. You do not need a Paypal account to make payments with this system. Please send us an email by clicking here letting us know which issues you require. We will check stock and let you know if we can supply before you pay.
Once we have verified stock we will contact you and you can return to this page. You will click 'add to cart'. Once you see your cart, you can update the quantity there. You will need to select the button for your part of the world so that shipping costs will be calculated correctly.
For items from vol 1 up to and including vol 14, no. 1 we have no existing paper stock, but we can supply offprints for £6 per copy plus shipping.These can be ordered below.
Back issues of the English Harpsichord Magazine may be found at the British Harpsichord Society website.
Contributors of articles to the magazine Harpischord & Fortepiano
Makers-Restorers
Chris Barlow
Lucy Coad Square Piano Restoration and Repair
Paul Y. Irvin
David J. Law
Ben Marks
Paul McNulty
John Philips
Maker-Performers
Douglas Hollick
Peter Watchorn
Performers
David Breitman
Penelope Cave
Terrence Charlston
Kathyrn Cok
Gary Cooper
Elaine Funaro
Gerald Gifford
Daniel Grimwood
Richard Lester
Daniel Moult
Paul Simmonds
Richard Troeger
Claudio di Veroli
Collectors and Museums
Kenneth and Mary Mobbs (and performance and sounboard painting)
Composers
Grant Colburn
Richard Leigh Harris (and performance)
Researchers, Music Editors, Arrangers
Gwilym Beechey
Gerald Gifford
Music Publishers (listed are those whose work we've reviewed)
Bärenreiter Ltd
Cadenza Music
Centre de Musique Baroque de Versailles
Cornetto Verlag
Edition Baroque
Edition Walhall
Furore Verlag
Henle Verlag
HH Editions
Hinshaw music
Plectra Music
Prima la Musica
Schott
Ut Orpheus Edizioni
Van Sambeek Edities (email)
Recording and Distribution Companies (listed are those whose work we've reviewed)
ABC Classics
Albany Records
Avie Records
Codaex
Delphian Records
Deux-Elles
Divine Art Records
Harmonia Mundi
Hyperion Records
Lyrichord
Move Records (email)
Presto Records
RiverRun
Select Music
Zig Zag Territories (email)
Book Publishers
Ashgate Publishing
Corvo Books
Routledge
Links for Richard Lester, 'Flamenco sketches (revisited)', Vol.26/1 (Autumn 2021)
https://imslp.org/wiki/Keyboard_Sonata_in_A_major,K.212(Scarlatti,_Domenico)
https://imslp.org/wiki/Keyboard_Sonata_in_F_major, K.276_(Scarlatti,_Domenico)
https://imslp.org/wiki/Keyboard_Sonata_in_D_major%2C_K.119_(Scarlatti%2C_Domenico)
https://imslp.org/wiki/Keyboard_Sonata_in_D_major%2C_K.45_(Scarlatti%2C_Domenico)
https://imslp.org/wiki/Keyboard_Sonata_in_C_major%2C_K.548_(Scarlatti%2C_Domenico)
https://imslp.org/wiki/Keyboard_Sonata_in_Eflat_major%2C_K.193_(Scarlatti%2C_Domenico)
https://imslp.org/wiki/Keyboard_Sonata_in_F_major%2C_K.107_(Scarlatti%2C_Domenico)
https://imslp.org/wiki/Keyboard_Sonata_in_B_minor%2C_K.87_(Scarlatti%2C_Domenico)
https://imslp.org/wiki/Keyboard_Sonata_in_A_major%2C_K.182_(Scarlatti%2C_Domenico)
https://imslp.org/wiki/Keyboard_Sonata_in_A_minor%2C_K.188_(Scarlatti%2C_Domenico)
www.youtube.com/watch?v=cnoXdbw
https://imslp.org/wiki/Keyboard_Sonata_in_F_minor%2C_K.184_(Scarlatti%2C_Domenico)
www.youtube.com/watch?v=Pt4Jd932auQ
https://imslp.org/wiki/Keyboard_Sonata_in_D_minor%2C_K.141_(Scarlatti%2C_Domenico)
https://imslp.org/wiki/Keyboard_Sonata_in_D_major%2C_K.491_(Scarlatti%2C_Domenico)
https://imslp.org/wiki/Keyboard_Sonata_in_D_major,K.492(Scarlatti,_Domenico)
https://imslp.org/wiki/Keyboard_Sonata_in_D_minor%2C_K.141_(Scarlatti%2C_Domenico)
https://imslp.org/wiki/Keyboard_Sonata_in_D_major%2C_K.491_(Scarlatti%2C_Domenico)
https://imslp.org/wiki/Keyboard_Sonata_in_E_major,K.207(Scarlatti,_Domenico)
https://imslp.org/wiki/Keyboard_Sonata_in_D_major%2C_K.490_(Scarlatti%2C_Domenico)
https://imslp.org/wiki/Keyboard_Sonata_in_D_major%2C_K.491_(Scarlatti%2C_Domenico)
https://imslp.org/wiki/Keyboard_Sonata_in_D_major,K.492(Scarlatti,_Domenico)